Landscape lighting installation is probably the most fun job we perform. Watching a project come together and lighting it for the first time definitely gives the team a sense of accomplishment. Landscape Lighting in Southwest Florida can serve many functions. Lights can be designed to give security at property access points like: entrances, gates, doors, pathways, walkways, driveways, lanais.
Lights can also be used for functionality around golf tees, barbeque grills, gazebos, she-sheds, man-caves, boat docks, or any other outdoor living space. Lighting can also be used to enhance the appearance of any estate. Imagine those majestic oak trees lit at night with a warm soft glow. Sounds good right? We have the knowledge and experience to make it your reality. Need Landscape lighting repair? We don't just change light bulbs. Our staff can quickly and efficiently diagnose your lighting issues using sound electrical theory and troubleshooting techniques.
We also carry a line of color changing LED lights that can be controlled right from your smartphone! No need to hang up lights for the holidays. These colored lights will have you covered for Christmas, Fourth of July, Halloween, Thanksgiving, Valentine's day, or any occasion you want to make memorable.
Landscape Lighting Installation
Looking to enhance your home's curb appeal? Light up your life SWFL. We offer a wide range of low voltage lighting options including LED with full warranty. We provide landscape lighting consultation and design services. So if you are looking to light your property of security, functionality, or just to have fun, ask one of our professionals to meet with you and let's dream up a work of art together.
Low Voltage Troubleshooting
Although harmless, a 12 volt low voltage lighting system to be reliable should be serviced by a qualified technician. Our team has a journeyman electrician on staff with over 15 years of experience. He and his apprentices are equipped to efficiently find and diagnose landscape lighting issues. LED lighting is especially sensitive to voltage fluctuations, and can affect bluetooth connectivity. At AM Irrigation we don't just change parts. We find the source of your problem at its core. At our core, is taking care of every detail of your outdoor lighting project.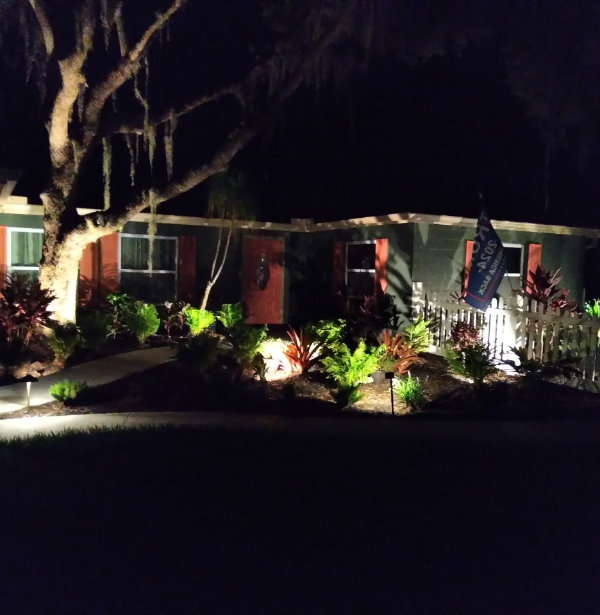 Tired of untangling those Christmas lights every year? Does October excite you for the spooktacular events? Decorating your home for the holidays can be as easy as turning on your phone. Our color changing, low voltage lights are just what you are looking for. The LED integrated lights come with a lifetime warranty on the fixture. They are made of premium solid brass, able to withstand the harsh elements in SWFL. Once installed, the color pattern, intensity, and arrangement can be customized through a free app on your smartphone. We also have low voltage transformers that can be controlled with your device as well.
Interested in a new installation? Schedule a free consultation/demo.